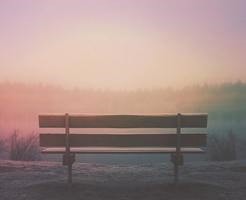 Pandemic Ponderings - Social Distancing
Steve Hardy
Wednesday, March 25, 2020
My friend and brother Ed reminded me that social distancing is not at all new, but has Biblical precedent. It involved those who were "unclean", by virtue of a physical malady of some sort or some other defined "uncleanness", as seen it in Luke 17:12-13--
And as he (Jesus) entered a village, he was met by ten lepers, who stood at a distance and lifted up their voices saying, "Jesus, Master, have mercy on us."

And of course, Jesus did have mercy on them. They were "cleansed" which meant, in their case, they were healed of the leprosy. It was not the first or only time Jesus cleansed someone with leprosy, and I was reminded of another account significant for a notable action Jesus took, described in Luke 5:12-13--
While he (Jesus) was in one of the cities, there came a man full of leprosy. And when he saw Jesus, he fell on his face and begged him, "Lord, if you will, you can make me clean." And Jesus stretched out his hand and touched him, saying, "I will; be clean."

It might be unremarkable to us, but his violation of "social distancing" may well have been one of those actions of Jesus that provoked the self-righteous rule-keepers, the Pharisees and teachers of the law, to begin bringing accusations against him. To touch the unclean leper would be to become unclean, something that no truly respectable teacher would do, in their minds. Jesus in this moment of compassion touched a man who needed touching, and not for the sake of healing. That could be accomplished, as it was for the 10 in Luke 17, without a touch. There was something else perhaps, something Jesus--sensitive to be sure but also really knowing each person--knew this man needed. At the risk of his reputation and likely his own sensibilities (a man full of leprosy was likely rather offensive to the senses), Jesus reached out and touched him.
As this pandemic we are in continues, we are wisely (for our own sake and even more for others) commanded to socially distance ourselves from others. We are under authority to do so, and fellow believers--we are taught to obey authorities unless God's command demands otherwise! So, where might that be the case?
Jesus was conversing with one of those religious officials in Luke 10 who asked "what shall I do to inherit eternal life?" Jesus turned the question on the expert in the law, and affirmed when the man answered that (according to the law) he would need to love God with his all, and his neighbor as himself. Then to "justify himself" (might we say, to let himself off the hook a bit), he asked Jesus to clarify: "And who is my neighbor?" Jesus answered with the story about the Good Samaritan, who saw a man in need and compassionately served him. The fuller meaning is evident in observing the action of others in the story--the priest, and then the Levite, each passing the man in need without helping. Probably not wanting to risk becoming "unclean".
So, who obeyed God? Who loved his neighbor? Indeed, the compassionate Samaritan. So fellow believer, do obey the law! Do practice social distancing, because a virus has made some of us "unclean" in the sense that we may unknowingly carry this "bug" to someone else, someone vulnerable, someone who--if infected--might die! We can do this social distancing, and creatively find ways to carry on with our lives until this wave passes, one way or another.
But at the same time, love your neighbor. Much of that can be done while maintaining our distance. So "reach out and touch" with a call, with a friendly wave and smile (people desperately need a smile), with a text or email. And if you see a man beat up and bleeding on the side of the road, by all means put distance aside and help! Jesus, who touched the leper and commended a Samaritan, would do no less.