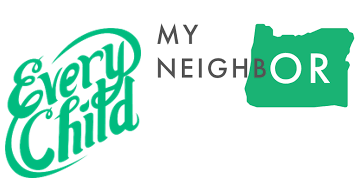 Foster Care Ministry Update
DCC Foster Care Team
Saturday, May 16, 2020
Foster Ministry Update:
Thank you, Damascus Community Church family, for the support that you continue to show to Every Child Oregon, My NeighbOR and the Foster Care Community in the PDX area. Your willingness and generosity make a difference in the lives of some of the most vulnerable people in our communities. Below you will find an update on Foster Care initiatives and information on ways that you can support and get involved:
My NeighbOR: In March the foster care support organization Every Child launched My NeighbOR, an initiative to support foster families with needs related to the COVID-19 pandemic. For more information please read this Foster Ministry Update from March: https://go.aws/2zHkpFA. For the time being, DCC is no longer acting as an Anchor Site. This is because of the abundance of willingness in the community! There were so many churches and organizations that responded to the need for Anchor Sites that My NeighbOR has requested several of them to focus on other needs and no longer operate as Anchor Sites.
My NeighbOR: Although DCC is no longer operating as an Anchor Site, there are still ample opportunities to support the My NeighbOR initiative! There are numerous foster families in our community that need tangible items, as well as financial assistance (through gift cards). Here are ways that you can tangibly support:

If you are willing and able to meet a specific need, please take a look here: https://www.signupgenius.com/go/8050f4fa9a623a1fc1-clackamas1. There are also links to Multnomah and Washington county needs; follow the above link and scroll to the bottom of the page. Or contact Katelyn Pirot for more information.
Purchase a gift card(s) and mail to: Every Child Attn: My Neighbor Gift Card – 809 N. Russell #203 PDX 97227
Put together a Flash Box (a large box of Family encouragement and fun items - as well as a few necessities, if they can be found) and drop off at a local Anchor Site during open hours. Sign-up to donate Flash Boxes and other tangible needs here: https://everychildoregon.org/myneighbor/ After signing up, drop-off and delivery instructions will be provided by the My NeighbOR team.
Follow this link for detailed instructions on what to include in a flash box: https://everychildoregon.org/wpcontent/uploads/2020/03/Flashbox-PDF-2_NEW.pdf
View a special announcement from Every Child's leadership HERE.
What is EveryChild? View an introduction HERE (Password: churchvideo).
----
Foster Parent Night Out: FPNO is an initiative of Every Child and provides a once a month night out for children of foster families. Foster and biological children are welcome, participating in 4 hours of games, crafts and food with supervision from background-checked and trained volunteers. This gives foster parents a break; 4 hours of kid-free time to rest, restore and rejuvenate! Volunteering for FPNO is a great way to support foster children and families, but only requires a minimal commitment: once a month for 4 hours on a Saturday evening. If you are willing, please consider contacting Katelyn Pirot to volunteer. Note: FPNO is canceled for the summer due to the COVID-19 pandemic. Trainings and FPNO events will resume when possible. In the meantime, contact Katelyn for more info and to be updated on this opportunity.
Clackamas DHS Office Cleanings: Teams of DCC members have regularly volunteered to clean the local DHS office. This is incredibly helpful, as numerous volunteers, children and staff are in and out of these offices daily. For the most part, DHS is dependent on volunteers to deep clean the offices, including the toys and furniture used by foster children. This is a small commitment, usually 1.5-2 hours of cleaning per event. If you are willing and able, contact Katelyn Pirot or Rebecca Gibson to volunteer for future cleaning events. Note: All cleaning events are postponed due to the COVID-19 pandemic. If you are interested in helping, contact Rebecca and you'll be updated as opportunities become available.
Foster Ministry Support & Involvement: If you are interested in brainstorming, organizing or leading foster ministry events for DCC, please contact Katelyn Pirot to discuss.
Explore Fostering Coffeehouse: If you're interested in becoming a foster parent or would lie more information on what that may look like, join Every Child for this virtual event: https://embraceoregon.org/event/explore-fostering-coffee-house-june-10th/ (Note from Katelyn: I've attended several of these Coffeehouse events. There is absolutely NO pressure to make a commitment to be a foster parent. This event is great even for individuals that want to support the foster community but aren't interested in becoming foster parents. Don't be intimidated to join!)
Information & Media: If you'd like more information about Every Child Oregon or Foster Care or you are interested in seeing how the initiatives previously mentioned are impacting our community, take a look at these websites/articles:
For any additional information or to express interest in volunteering, contact Katelyn Pirot: kpirot.fostercare@gmail.com or Rebecca Gibson: gibsonerebecca@gmail.com