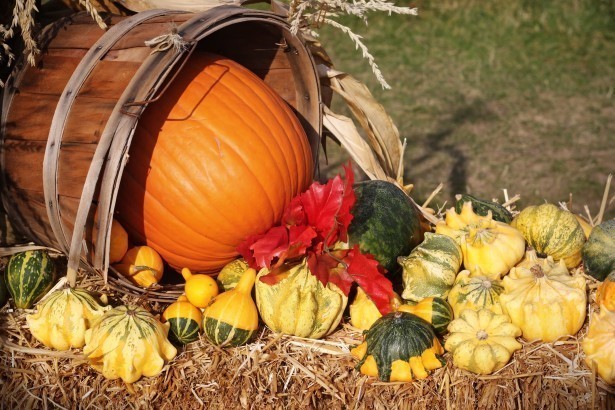 Harvest Festival/Thanksgiving
Andy McClellan
Saturday, October 24, 2020
(previously published in DCC's weekly newsletter, 10/17/20)
The leaves are falling, and the décor has changed. Fall is here, which means many of us have set our eyes on the holidays. Normally, by this time Damascus Community Church would be promoting both our annual Harvest Festival (October 31) and Thanksgiving Dinner (November).
However, as with so many other large events both inside and outside of the church, these events will not take place in 2020 due to the COVID-19 pandemic. We will look to resume these activities in 2021.
Yet in 2020 we want to encourage DCC (that is you!) to actively reach out and show hospitality as we head into the next several weeks. That means that we will need to be more creative.
As you miss the annual Harvest Festival, which has always been held as a safe, Gospel-oriented alternative to the trick-or-treating of Halloween, consider applying its main purpose to your own neighborhood.
Here are some ways you can reach out to your neighbors on Oct. 31, even as you maintain COVID-19 gathering restrictions and guidelines:
Organize a "Trunk-or-Treat" event. Work with your neighbors to host neighborhood event where each one decorates a vehicle, fills the trunk with candy, and greet trick-or-treaters from their respective driveways. Use this as an opportunity to get to know your neighbors, and make sure to have Gospel-oriented materials along with the candy in your vehicle's trunk. If your neighbors are willing, go even further and provide no-contact carnival-type games at each home.
Host an outdoor lawn party for your neighbors. Invite your immediate neighbors to join you on your front lawn or driveway for apple cider, hot cocoa, games, pumpkin carving, etc. Canopies and chairs can make for an inviting place to get to know your neighbors. Don't forget to have candy and a smile available for the passing trick-or-treaters.
Host a small group event at your home. If you are a part of a small group, invite the group to join you for the event above, or for a night of games, food and prayer.
Put on a show. If you have a lot of foot traffic on Halloween night, use it as an opportunity to teach the Bible. Dress up as biblical characters and put on a short skit for those passing by. Have goodie bags with candy and further information about the story you told available for those who get to enjoy your show. Puppets can also make this a memorable activity.
Go door-to-door. Instead of going door-to-door looking to get candy from others, go door-to-door to your neighbors with gifts in hand. Gift cards for coffee or other treats are almost universally appreciated, and you can easily pair them with whatever written materials you might decide to bring them. Examples are a Gospel of John, a history of "All Hallows Eve," information on helpful community resources, and opportunities for engaging with the local church. If you already know the neighbor, a personal hand-written note might be a nice touch.
Host an in-person or virtual (ex. Zoom) prayer meeting. Join with family members, friends, church members, etc., to pray that this night would be used for the advancement of the Gospel.
Whatever you do….make the best use of the time….because the days we live in are evil, and much of that evil will be on display and celebrated during this October night.
*Some ideas gleaned from the following sites:
https://allgiftsconsidered.com...
https://www.futureflyingsaucer...
https://ministryspark.com/shar...