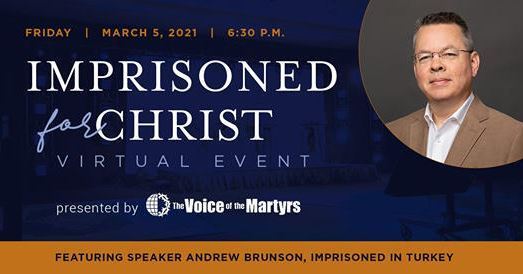 Imprisoned for Christ
Andy McClellan
Tuesday, February 02, 2021
This Sunday, Feb. 7, we will spend some time praying for the Persecuted Church, and looking at the 2021 World Watch List. Our brothers and sisters in Christ around the world need our prayer, and we need to hear the stories of how God has remained faithful in the midst of persecution.
"The Voice of the Martyrs, with help from LifeWay, is hosting a FREE virtual event on Friday, March 5, 2021, that will feature three inspiring speakers: Petr Jasek, Dan Baumann and Andrew Brunson. Be inspired by the stories of three men who were, arrested, interrogated and imprisoned. Yet God remained faithful.
In addition to their firsthand testimonies, you will enjoy an engaging panel discussion moderated by VOM Radio host Todd Nettleton, as well as inspiring worship music from Dove Award–winning artist Natalie Grant."