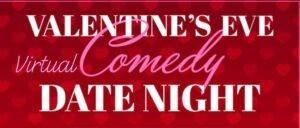 Valentine's Eve Date Night
Staff
Monday, February 08, 2021
A VIRTUAL Valentines EVE Date Night event is coming. Going out may not be an option this year but Valentines FUN is NOT cancelled. MarriageWell and Every Marriage Matters team up again to bring you a top-notch lineup of headliner Clean Comedians. This year's Virtual Valentine's Comedy Show will feature 5 talented acts LIVE via ZOOM along with the Pacific Northwest's own Carl Banks closing the show. Don't miss this memorable night of Love & Laughter!
Only $30 per couple. Tickets at https://marriagewell.org
For information about Every Marriage Matters, visit http://www.everymarriagematter...