Dear friends and church family,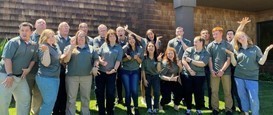 Greetings! As some of you may know, I recently had the opportunity to work with Base Sports as a head coach for summer sports camps. My team of 5-6 interns and I traveled between Oregon and Washington to help churches put on week-long sports camps for children ages 4-12. We ran 11 camps in 7 weeks and reached over 1,100 campers with the gospel! God worked in amazing ways this summer as we built relationships with the churches we visited and hopefully made a positive impact for Christ in their communities. If you take a look at the photo to the right, this was taken at training week in Yakima during "Friday Funday". Those included are as follows: McKayla Tilton, me, Daniela Juarez, Damaris Luna, Laura Dickson, Geno Hunt, and Monse Hernandez. The first three and Monse were interns with me this summer and Geno/Laura each helped at one camp. Thank you so much if you prayed for and/or supported me; it is such a blessing to have a strong support network as I go out in ministry!
Another incredible opportunity I had this summer was traveling to Morelia, Mexico in August! Spending about 10 days in the city with some friends and new acquaintances, I got to explore historic downtown, visit a couple of towns in the countryside, eat delicious food, and make connections with Sion Church and the NOE Center—both partners with Base. I loved visiting the gals from my summer team as well as meeting some of their families. It was a great trip and I am now looking forward to the next time I can visit! The two photos to the left are of me with my host family, the Keiths, and the Peralta family who are starting up Base Mexico, and then the Sunday school class I was able to teach at Sion Church.
On another note, many of you might remember that Base used to be called Youth Missions International (YMI)—but this year we officially rebranded to Base Ministry which includes both sports camps and missions. It has been such a joy to work with Base this summer and I am excited to share that I get to do it again in a bit of a different role.
Beginning this month, I have prayerfully decided to pursue a year-long internship with Base. This position involves joining several teams within the organization that each work towards our mission of empowering young people to continually live and share their faith in the global communities they serve. I will be helping write curriculum for sports camps and missions, learning how best to care for our individual and church partners, and participating in church, leader, and intern training. Some of this may entail traveling locally and internationally as Base Ministry is a worldwide organization!
In case you couldn't tell, I am immensely excited for this opportunity that God has brought into my life; He knows what is on my heart and has provided a way to utilize my strengths and passions through this internship. It is full-time ministry, which involves moving to Auburn, Washington and raising funds for living costs this year. My monthly goal for support-raising is $2,600 to cover expenses, travel, and other needs. If this is something you want to help with, please visit the Base Ministry website: https://www.baseministry.org/give and locate the "fund" drop-down menu to choose the "Staff and Sister Orgs". After that, click on the "sub-funds" menu and select my name!
If you have already supported me from past trips or summer travels, thank you so much! This year, I have learned a lot about ministry and one of my favorite parts is connecting with friends, family, and the church body about the ways in which God is working. Building and establishing relationships is so important to us—not only as human beings, but as Christians. God wants us to share in fellowship and serve Him together whether it's in prayer, financial support, or physically working alongside fellow believers to reach the world for His kingdom. I am excited that I get to share how God is working in my life and in Base Ministry!
Lastly, I will be making regular posts on my ministry update blog if you would like to keep connected with how my internship is going! If so, you can look it up at amandatbaseministry.wordpress.com or sign up to get emails every time I post something new. I would love to connect with you! My contact information is listed below; feel free to message, call, or email me if you have questions or just to say hi :)
Blessings to you and your family and all the things God has in store for you.
In His service,
Amanda Titchenal